A user can access their profile once they've logged into your event by clicking My Profile in the left navigation menu. Their profile will appear on the right side of the screen and includes information such as the user's name, profile picture, and Areas of Interest. You can use the Events Builder to not only edit which fields appear on a user's profile, but also which fields a user can edit from the event site.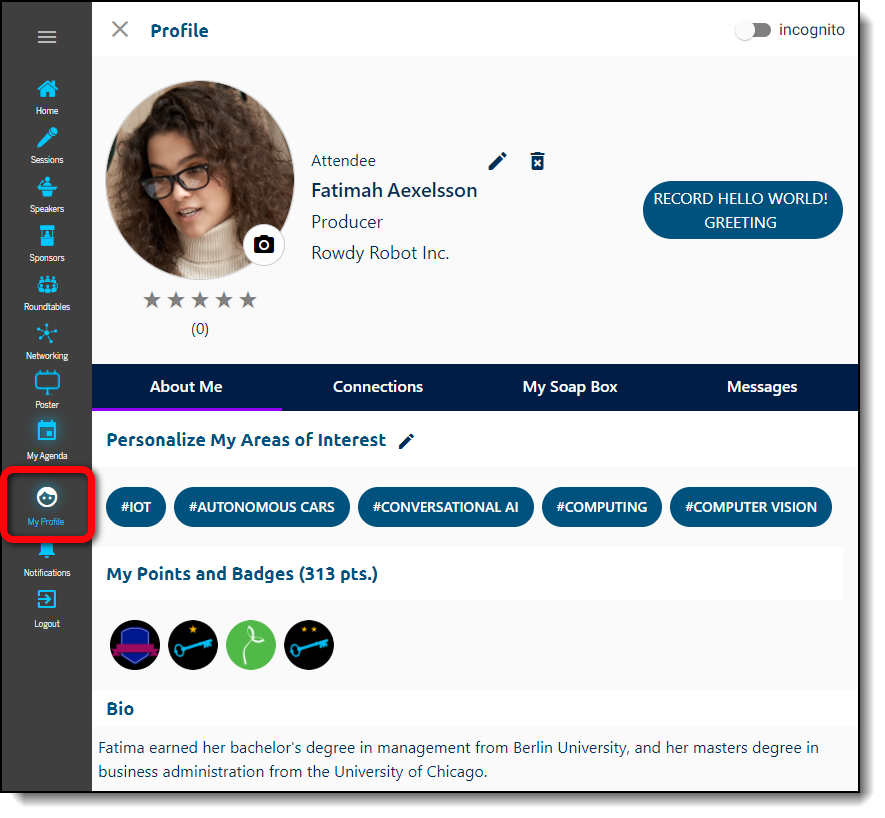 To access these settings, log in to the Events Builder and select your event. Navigate to General Settings > Pages > Profile.
Use the checkboxes to customize how you would like user Profile fields to appear:
Show on Edit: If you check this box, users will be able to edit this Profile field.
Required: If you check this box, this field will be a required field that a user must complete if they edit their Profile.
Readonly: If you check this box, users will be unable to edit this Profile field.
Show on Profile: If you check this box, the field will be visible on a user's Profile.
Tips:
If you check the Required box, you will be unable to check the Readonly box.
It's often a good idea to set user names and emails as Readonly.
If you do not check the Show on Profile box for a field, you will not lose this information (if, for example, it was provided during user registration), and it will still be included in user reports.
You are able to chose from and set edit/readonly settings for the following Profile fields:
First Name
Last Name
Email Address
Company
Title
Country
State
City

Description
Address 1
Address 2
Work Phone
Home Phone
Postal Code
Department
LinkedIn
Tip: On the event site, the Description field is labeled Bio.
 Further Reading: