You can create posters for your event, which allow you to share presentations, resources and other relevant information with your attendees.
Once they have been created, there are two pages from which you can edit a poster: the Edit page, and the Manage page. This article details the Edit page and how to change a poster's settings. Check out this article to learn how to manage your poster's layout.
To edit poster settings, login to the Events Builder and select your event. Select Pages > Poster Manager from the left navigation menu. Click the ellipses icon in the top right corner of the poster you want to edit, then click Edit.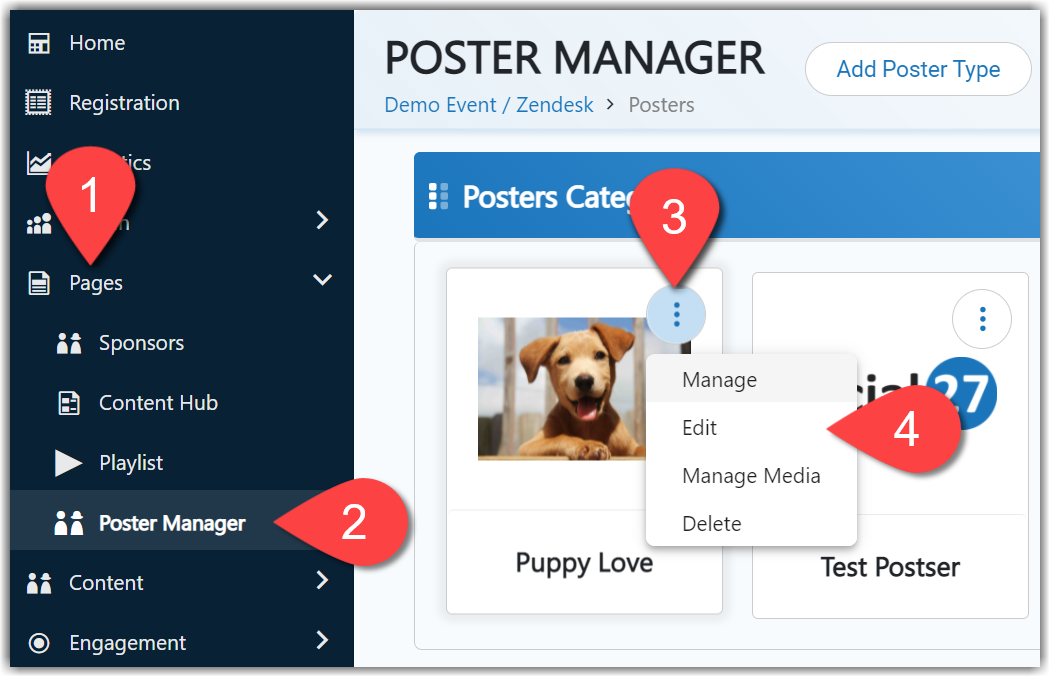 Basic Settings
The Create Poster page will appear, allowing you to edit the poster logo, name, type, description, category, Playlist, and Areas of Interest).
Clicking the blue Edit button above the description field will open the page layout editor and allow you to add custom content to your poster. For more information about using this editor, check out the following articles:
Advanced Settings
Additionally, you can configure more advanced settings, which are outlined below.
Setting

Functionality   

Allow in Recommendations?   

If this toggle is turned on, the poster will be recommended to attendees who have indicated similar Areas of Interest. Attendees will see a Posters section when they click Agenda and navigate to the Recommendations tab.

Allow to add RoundTables for poster?

If you check this box, you will be able to add Roundtables to the poster. If you click this checkbox, a set of new options will appear, asking you if you would like to also allow Boardrooms, and which meeting providers can be used for these meetings.

Any Roundtables or Boardrooms created for that poster will appear at the bottom of the Poster page in the Posters Roundtables section.

Allow to add Representatives for poster?

This feature allows you to add representatives who will be in charge of that poster. Their profiles will appear on the poster page, giving attendees the chance to connect with them and learn more about the information presented in the poster.

Allow to add Playlist Resources for poster?


Checking this box allows you to add a Playlist to the poster. (To create a Playlist, go to Pages > Playlist.) Any Playlist you add will appear on the poster page.


Allow to add sponsors for poster?

Once enabled, this allows sponsors to be featured on the poster.   

Allow to add sessions for poster?

This feature allows you to add sessions to the poster.

Allow to add resources for poster?

This feature enables you to add resources to the poster that attendees can download.

Allow to view visitors?

This feature allows you to display a list of users who visited the poster.   

Allow chat  / PosterRep QnA?

If the Chat toggle is turned on, a chat window will appear on the right side of the screen. You can chose to allow basic chat and/or PosterRep QnA, in which the poster representatives can moderate and answer questions asked by attendees.
Further Reading: