This article contains a list of Frequently Asked Questions that relate to the production of sessions. if you have a question that isn't answered in this article, please reach out to your CSM.
Live Streaming Basics
Using Zoom
Communication with Social27
Scheduling and Slides
Compliance and Captioning
Security Considerations

Live Streaming Basics
How does a live stream work?
Our livestream technicians will capture live calls and/or pre-recorded videos using our broadcast software. The signal is sent to the cloud servers and streamed to Social27 platform where attendees view it.​
Social27's Production Team has multiple backups in place to account for bandwidth, equipment, CDNs, and delivery.​
Check out this example video to see what live streaming looks like on the Social27 platform.
What are the bandwidth requirements for live streaming?
The minimum requirement is 3 Mbps. This requirement ensures users are able to join the Zoom call and use its basic functions such as video. More bandwidth will improve quality.
Is there any back-up system in place during live streaming?
We have 3-Tier Streaming System to ensure your live streaming experience:
Wowza Primary Stream ​

Transcriptor Bunny Backup ​

MUX Backup ​
Internet Back-Up
Our facilities are equipped with three dedicated internet lines that are bonded by enterprise-grade routers for instant failover redundancy. ​
Hardware Back-Up
Our facilities have an on-premise server accessible from all stream machines where your session is copied and saved in case of hardware failure.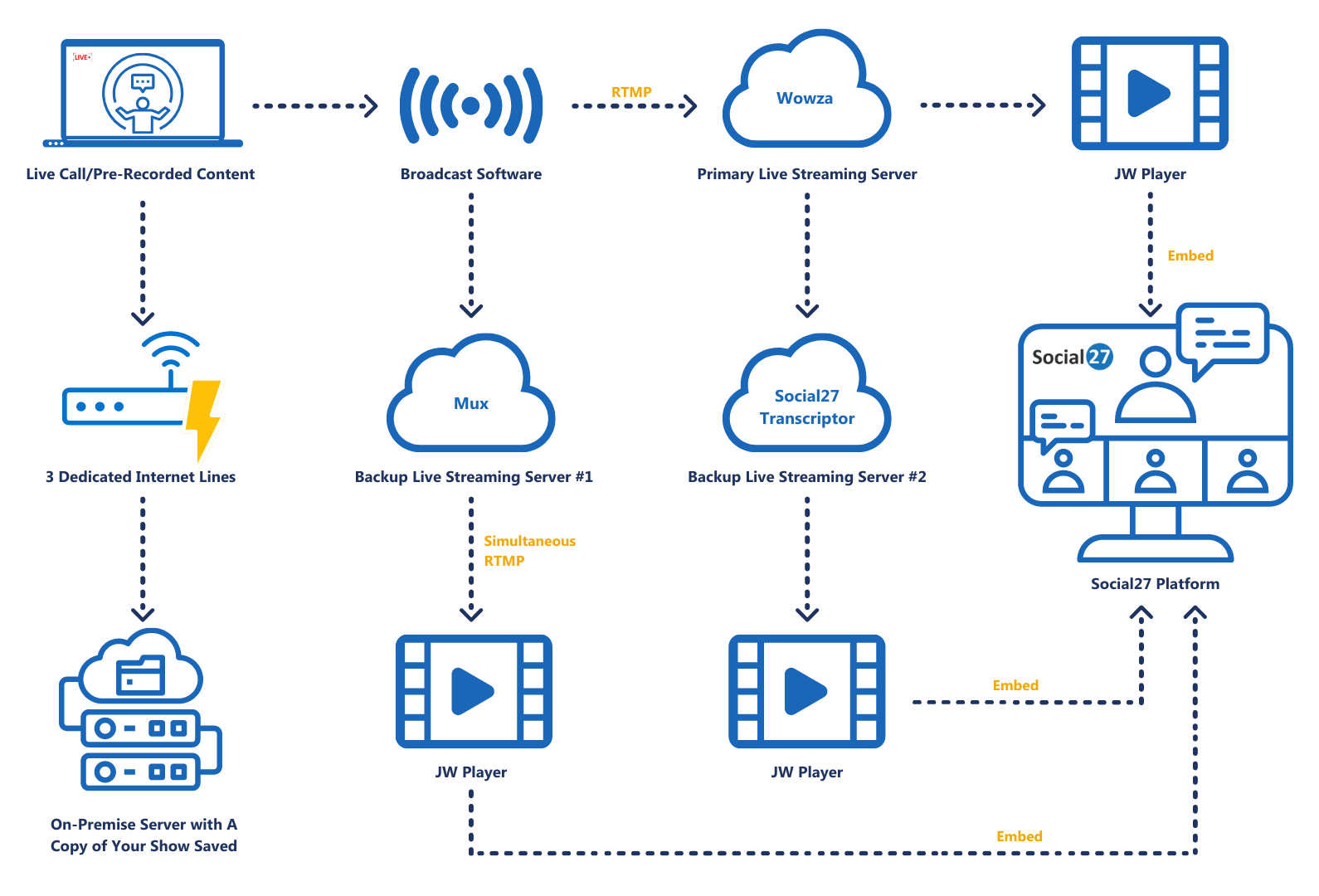 How long is the latency on the platform?
A 9 to 30 seconds latency between when the broadcast displays content and when it is viewed by the end user is normal and expected. This is due to the server, CDN, and transmission protocols.​
If using our captioning service, an additional 30-45 seconds of latency is incurred to account for the content transcription.
If latency is a critical concern (i.e., attendee interactivity, live polling, etc.), we suggest that you use Social27 Stream as an alternative, as this service allows for more immediate interactivity between presenters and attendees.​
Using Zoom
How do I set up a Zoom call for a live session?
Sign in to your Zoom web portal.
Click Meetings.
Click Schedule a Meeting.
Choose the date and time for your meeting.
Select the meeting settings.
Recommended Settings:


Allow participants to join anytime.
Mute participants upon entry.
Participants camera off upon join.

Click Save.
On event day, it's helpful to make the technician who joins the call is a co-host of the meeting.
For more information regarding how to set up Zoom call links for sessions, please visit: https://support.zoom.us/hc/en-us/articles/201362413-Scheduling-meetings.
Do I need an enterprise account to set up Zoom calls?
You do not need an enterprise account.
Can I have one host for all meetings?
The Meeting Creator is automatically the host. We recommend having a host and Zoom license for every concurrent session (sessions occurring at the same time).
Communication with Social27
What are the Deep Dive Meetings with the Production Team?
Speaker Training: We will explore speaker-specific recommendations and best practices.
Moderator Training: We will showcase how to use Social27's moderated Q&A function and explore best practices for moderators.
ROS Review: We will check if our Run of Show matches the event agenda and ensure all assets are received and properly aligned.
Smoke Test: We will fire up all streams and check that the right stream is on each session.
Tech Check: This is a pre-session call with speakers that begins 15 minutes before live sessions when Social27 technicians check presenter audio and video.
How do we communicate (with Production) during a live event?
There will be a solutions room chat established before the live event day. This can be built via Teams or any other platform your team is comfortable using.
Scheduling and Slides
Do I need to have breaks between sessions?
We recommend a 15-minute break between live sessions. This time padding gives our technicians time to leave one live session and a do Tech Check for the next.
We recommend 10-minute breaks between simu-live sessions to account for the unlocking of sessions 10 minutes before the live time.
These breaks are not necessary, but they prevent sessions bleeding into other sessions.
Recommended Break Schedule
Not Recommended Break Schedule
Can I add commercials/videos instead of interstitial slides?
Yes, interstitial content can be in MP4 format as well as JPG. Interstitial slides are a great way to showcase sponsors and other content and can be played during your 15-minute breaks.
Compliance and Captioning
How is our site ADA compliant? Can closed captioning (CC) be added to sessions?
CC can be added to sessions. This topic will be discussed during pre-production of the event. (Check out our Captioning FAQs for more information.)
We currently do not offer an accessibility player, but plan to have one in the future.
Security Considerations
What about highly confidential/secure sessions? How does Social27 protect them?
We can provide a token-based authentication for live streams to secure highly confidential content.

Further Reading: