This article describes the system requirements needed for the Social27 platform and tools to work with ease and allow you to make use of all the virtual event features, including sessions, sponsor booths, and Roundtables. A list of tips and troubleshooting steps are included as well.
Topics include:
System Requirements
Browser
Social27's platform and tools work best when they are accessed using the Microsoft Edge or Google Chrome browsers. Using Mozilla Firefox or Internet Explorer is not recommended.
To download these browsers, click the links below:
Network
To ensure high quality 1080 HD video, an internet connection speed of at least 5 Mbps is required. Because internet speeds vary, it's better to have a speed 1.5 times higher than the required Mbps. To prevent image pixilation and dropped frames, a speed of 8 – 10 Mbps is recommended.
Hardware
Hardware requirements include:
Processor: 1.5 GHz (dual core) / 2.6 GHz (single core)
Graphics

Modern Intel Extreme Graphics / Nvidia / ATi with 128 MB video RAM
Core clock: 300 MHz
Allow Lists
Trusted Websites
To ensure you can access your Social27 event site, you may need to identify it as a trusted website.
Windows 10
Click your computer's start menu and type "Internet Options." Select Internet Options to open the Control Panel.
Go to the Security tab, click the Trusted Sites icon, and click Sites.
In the left navigation panel, click the Privacy and security
In the Add this website to the zone: dialogue box, add the Social27 IP address and URL:

https://195.19.97
https://social27.com

Click Close > OK to close out of Internet Options.
Mac
Open Google Chrome.
Click the three-dot icon in the top right corner of the Chrome window.
Click Settings.
Scroll down and click Show advanced settings.
In the Privacy section, click Content settings.
Click Manage exceptions.
Add the Social27 IP address and URL:

https://195.19.97
https://social27.com

Make sure the Behavior setting on the right side of the screen is set to Allow.
Click Done.
Email
Outlook
To add a domain or specific email address on Outlook.com to your allowed list, you need to add it to your Safe Senders group. Emails sent from addresses in your Safe Senders group will appear in your inbox and won't be routed to spam or junk folders. Follow the steps below to add an address or domain to your Safe Senders group:
Click the gear icon in the top right corner, then click View all Outlook settings.

Navigate to Junk email > Safe senders and domains.
Enter the domain name or email address you wish to add as safe senders. Include the @ character in domain names to only allow emails with the exact string of characters you entered (and nothing more).
Gmail
Click the gear icon in the top right corner, then click See all settings.

Navigate to the Filters and Blocked Addresses tab and click Create a new filter.

Enter the domain name or email address in the From field. Include the @ character in domain names to only allow emails with the exact string of characters you entered (and nothing more).
Click Create filter.
In the windows labeled When a message is an exact match for your search criteria: check the Never send it to spam box.
Click Create filter.
Troubleshooting Tips
Before the Session
Join your session 10 minutes before the start time (the session will open 10 minutes before the scheduled time). Before your session starts, make sure your audio and video are working properly. You can test these settings in your computer's System Settings or System Properties.
Time Zone Settings
To keep from missing a session due to time zone differences, update your event's time zone display. Click the time that appears in the top right corner of any main event page and select the appropriate time zone from the listed options. Once you have made your selection and closed the window, the time zone will now be included in the time display at the top of each event page and all times shown on the event site will be converted to your selected time zone.
Session Calendar Reminders
Add sessions to your personal calendar to receive reminders when they are about to begin. To do this, log in to your event and add a session to your event by clicking the calendar icon
. Once you've added the session to your agenda, click My Agenda on the left navigation menu, then Add to Calendar. This will download a .ics file that you can use to add the session to your personal calendar. Options include: Outlook, Google, Yahoo, or Apple calendar.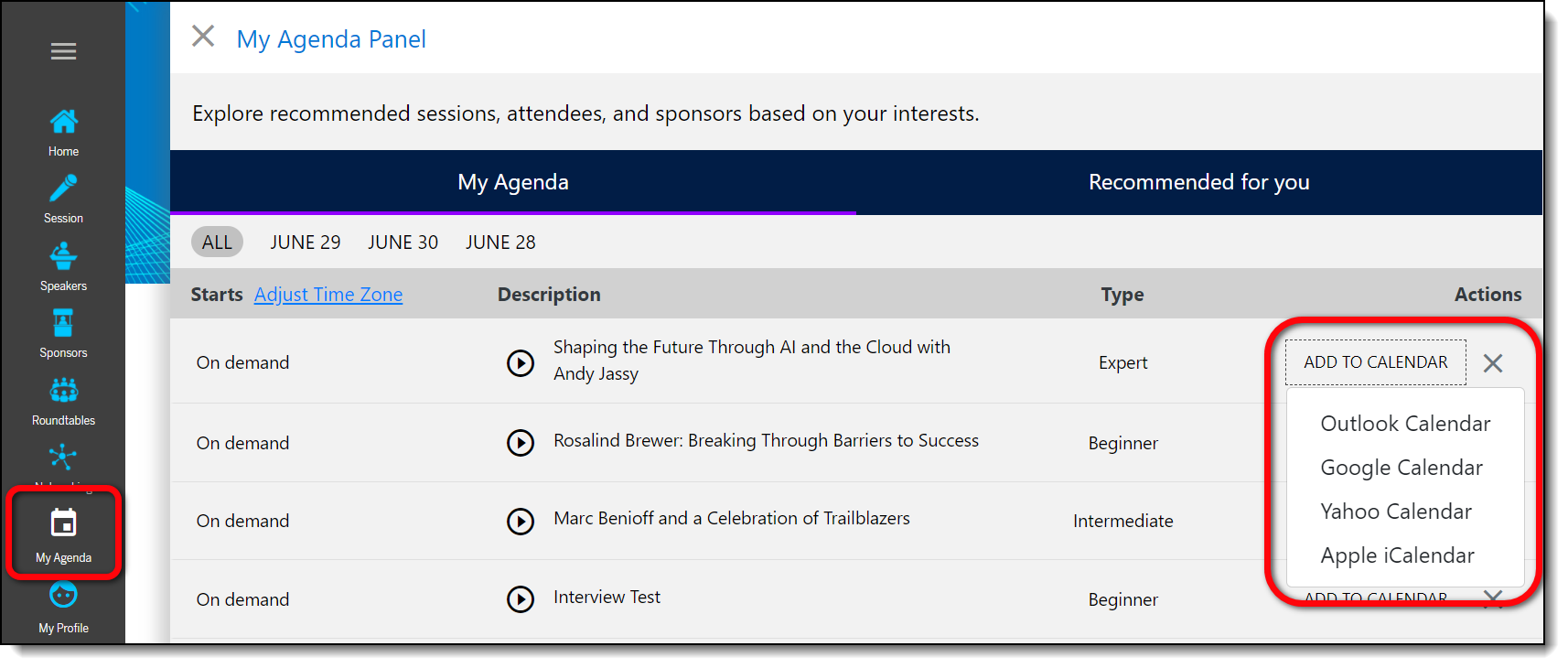 During the Session
Refresh
If you experience connectivity or loading issues while watching a session, refresh the page by clicking the circular arrow button in the top left corner of your browser.
Session Player Settings
You can lower your session players' image quality to fix connectivity and loading problems. Click the gear icon located in the bottom right corner of the session player to change this setting.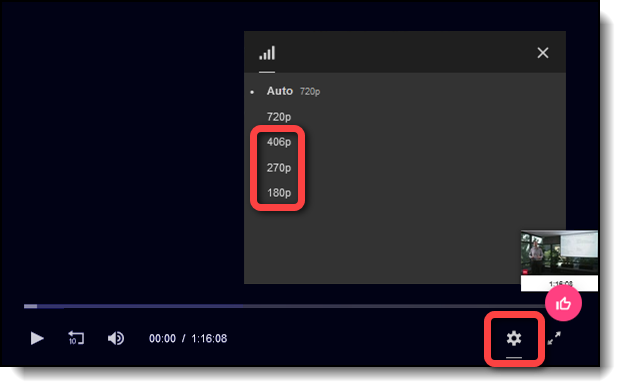 VPNS and Other Applications
Some VPNs may slow video loading and/or block the live stream, so it can be helpful to disconnect from any VPNs. You can also conserve bandwidth and increase image quality by shutting down other applications.
Clear Cache
Clearing your browser's cache can also help with image/audio issues.
If logged into the event before the session started, log out.
Click the three-dot icon in the top right corner of your browser window, then choose Settings.

Clear browsing data:

If you are using Chrome, navigate to the Privacy and security tab and click Clear browsing data.
If you are using Edge, navigate to the Privacy, search, and services tab and click Choose what to clear in the Clear browsing data section.

Choose a time range in the Time range drop-down menu.
Check the boxes next to Cookies and other site data and Cached images and files.
Click Clear data.
Log back in to the session.
Inspect and Clear Cache
If you don't want to clear your entire cache for all websites and all cached information, you can use Inspect to clear cache on just the session page.
Right-click anywhere on the page and click Inspect (last option). A window will appear on your browser showing the session's site code.
Hold down on the Refresh button at the top of the screen until a drop-down menu appears.
Select Empty Cache and Hard Reload (on Chrome) or Empty cache and hard refresh (on Edge).

Private Browser
Another method of improving image and audio quality is to use a private browser.
Click the three-dot icon in the top right corner of your browser window, then choose New incognito window (on Chrome) or New InPrivate Window (on Edge).
A new window appears. In the top corner, check for the Incognito/InPrivate icon.

You can also use a keyboard shortcut to open an private browsing window:

Windows, Linux, or Chrome OS: Press Ctrl+Shift+N.
Mac: Press ⌘+Shift+N.
Users in China
China has an extensive internet censorship system in place informally known as the Great Firewall that restricts many foreign websites and most live video streaming platforms. Outlined below are potential complications users in China may experience using the Social27 platform, as well as troubleshooting methods.
Known Complications
Connectivity and Access
The Great Firewall's website traffic monitoring may impact speed, performance, and connectivity on the Social27 platform.
Users in China may be unable to access the Events Editor, login to the event platform, or receive email.
Livestreaming
Social27's platform is hosted on Azure Cloud Services and does not have dedicated servers in China. Wowza is Social27's live streaming platform and is one of many live user-generated content platforms (such as Facebook, YouTube, and Vimeo) that is not supported in China. There is no guarantee that a user in China will be able to live-stream sessions.
Troubleshooting Tips
VPN
VPN services have allowed users in China to more easily use the Social27 platform.
On Demand Video
Users may access live sessions on demand. Live sessions are available as on demand videos 72 hours after the completion of the session.
Roundtables
Although Roundtables using Microsoft Teams, Zoom,* and Social27 will most likely not work, you can create a Roundtable with a custom meeting provider and add a meeting link for a service that is allowed in China.
*Zoom.us and Zoom.com may now be available in China, but access is subject to change.
Further Reading: