Miro is an online interactive whiteboard platform that helps users collaborate, ideate, and strategize. Social27 allows you to integrate Miro into your Roundtables and Boardrooms and sessions, enabling your event attendees to more effectively connect and exchange ideas.
Tips:
Miro is not enabled for every event. Check with the event organizer if you believe Miro might be useful for you.
Miro can only be used for meetings that are powered by Social27, as opposed to Zoom, Teams, or other third-party conferencing platforms.
If Miro has been enabled for your event, you can begin using it after you have launched your meeting by clicking the ellipses icon at the bottom of the screen.
After you click Start Miro, a popup will appear asking you if you would like to create a board without registering for a Miro account or sign in and use an existing board.
Once you've made your selection, Miro will appear on your meeting screen. You can use the Miro sidebar (a), see who is collaborating on the board (b) and export the board (c). Check out Miro's Help Center if you have any questions about how to use Miro's features.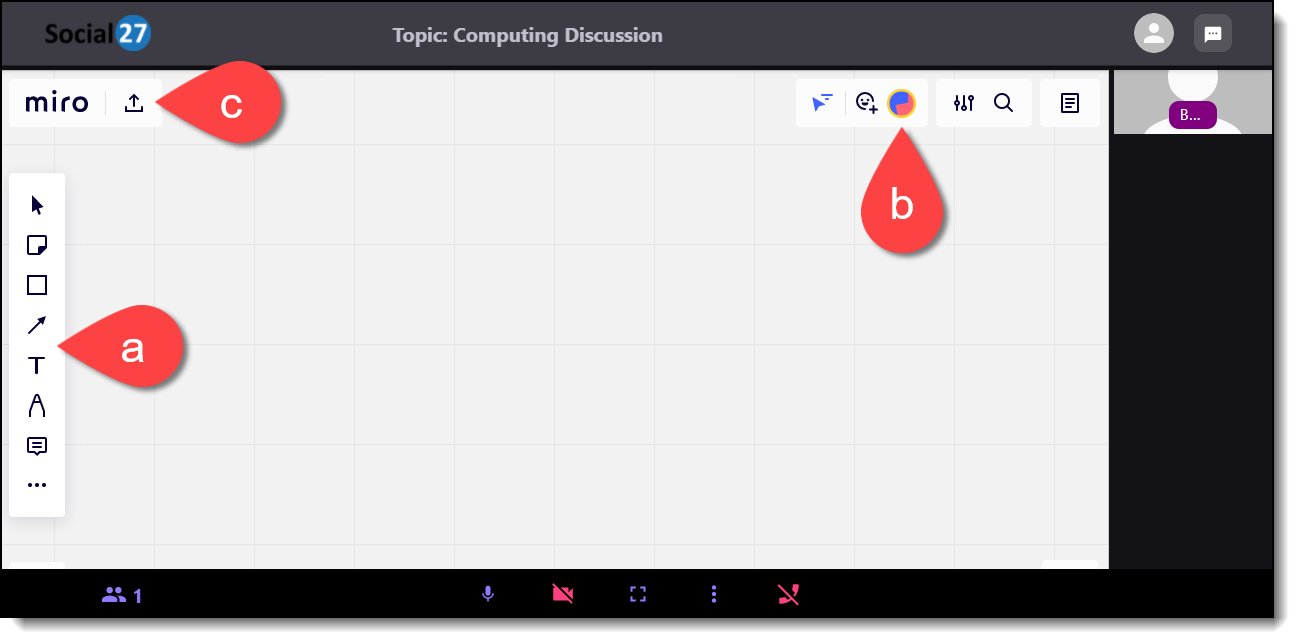 Notes:
If any users are viewing the meeting because it is full, they will be able to see what is being created on the Miro board but will not be able to act as collaborators.
If the meeting is being recorded, Miro will NOT be included in the recording (although all other meeting audio, video, and screen shares will).
If, at any point, you would like to stop Miro, click the ellipses icon at the bottom of the screen, then Stop Miro.
 Further Reading: