Areas of Interest (AOIs) indicate certain topics an attendee may want to learn more about during an event. They personalize the attendee's experience and link them to recommended sessions, sponsors, speakers, attendees, and posters. AOIs ensure attendees see the content and connections most relevant to them.
You can use the Events Builder to create a personalized login page users see the first time they first log in to the event site. They will only see this page once — the first time they log in to the event site — and will be asked to indicate their AOIs. 
To enable this feature, log in to the Events Builder and select your event. Click General Settings in the left navigation panel and navigate to the Pages tab. Scroll down and open the AOIs dropdown and check the Select AOI on First Login box.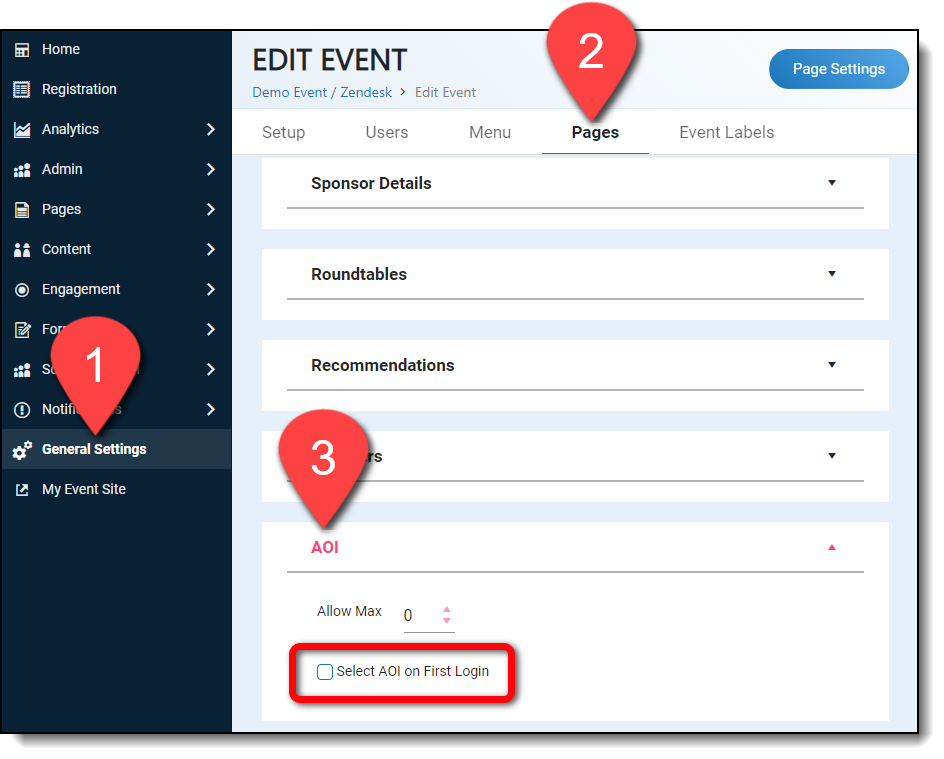 Use the Allow Max setting to determine the maximum number of AOIs each attendee can select. 
Once this feature is enabled, attendees will be asked to choose their Areas of Interest (up to the maximum amount set in the Events Builder) after their first login. 
The number of allowed AOI selections isn't as important as the number of AOIs available to chose from. However, human behavior generally tends toward making 2 to 5 selections, so we typically recommend allowing users to select up to 5 AOIs.
Further Reading: