Sessions are one of the primary methods by which you can convey useful content to your event attendees. There are multiple different types of sessions you can add to your event, including live or on demand, workshops, keynotes, and breakout sessions.
This article is an overview of Social27's Moderated Q&A functionality that is available during sessions.
Tip: If your session uses Social27 Stream, you have additional chat features at your disposal. Check out this article for an explanation of these features.
Topics in this article include:
Chat
When you enter your session, you can reveal the chat window by clicking the message icon on the right side of the screen. In this window, you will see two tabs.
Chat: General session chat where attendees can interact with one another
Moderated Q&A: Location where attendees can pose questions to be answered by the session speaker(s) and/or moderator(s)
As a moderator, you can keep an eye on the comments entered by attendees and use the trash can icon to delete any comments that are inappropriate or not relevant to the session. (Attendees are not able to delete chats.)
Your event owner may have turned on the chat flagging feature, so you may see an ellipses in the top right corner of each post, where you can flag such posts rather than deleting them. Check out this article for more information.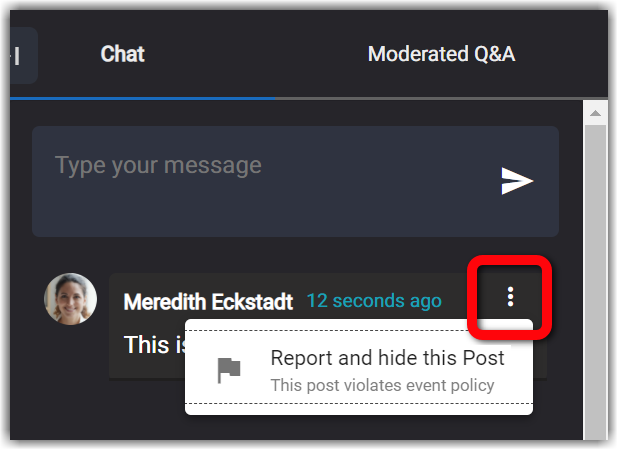 Moderated Q&A
You have several options for interacting with posts entered in Moderated Q&A.
Make an Announcement
Use the chat box that appears at the top of the New tab to make an announcement. This post will appear in your Published tab and to all attendees in the Moderated Q&A > Featured tab.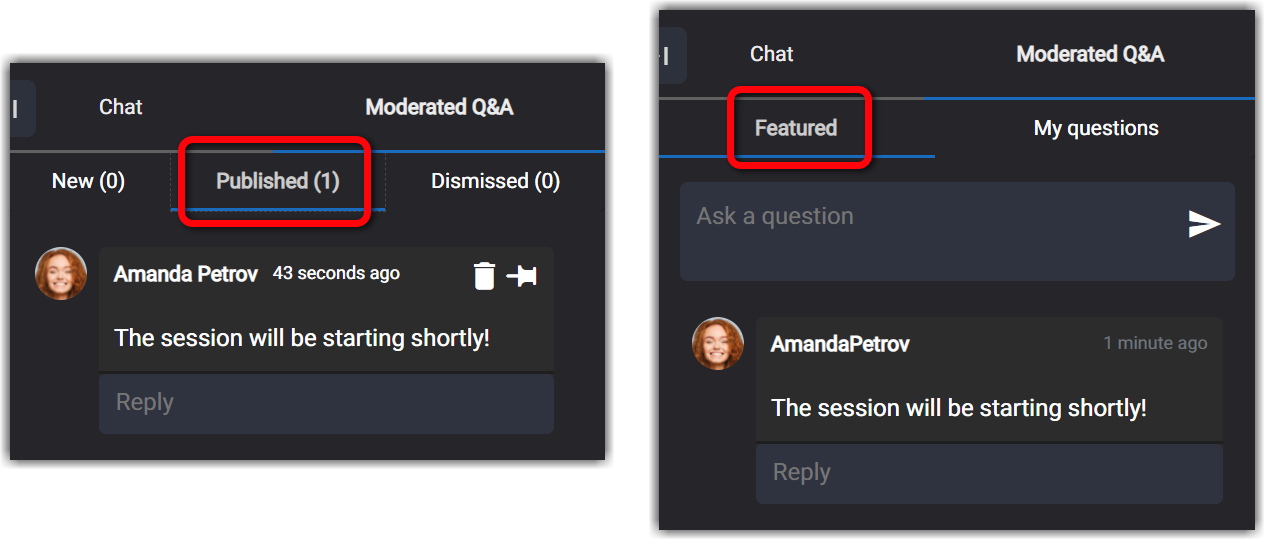 Publish
When attendees ask questions in the Moderated Q&A tab, they will appear in your New tab. If you believe the question is beneficial for all attendees to see, you can publish it. The question will be moved to your Published tab and will appear to all attendees in the Moderated Q&A > Featured tab.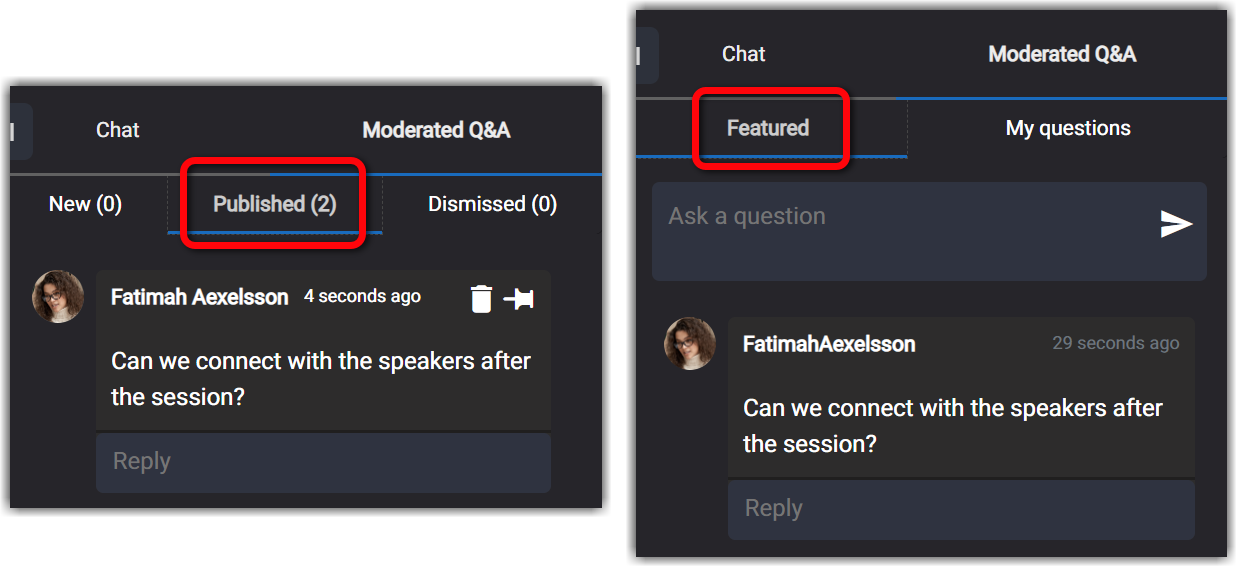 Note: Once you publish a post, any user, including session attendees, can respond to it.
Pin
If a post is particularly helpful/important, you can "stick" it to the top of the Featured tab by clicking the pin icon/button. All other posts that are published will appear below this post. However, if you pin another post, it will move to the top of the list, above all other pinned posts.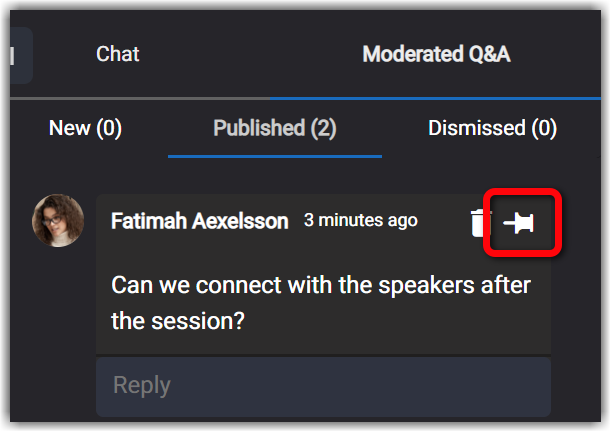 Note: If you are pinning a post, you need to also be sure to publish it to make it visible to all attendees.)
Private Reply
If you would like to respond to a question without publishing it, you can send a private reply. The question will remain in the New tab, and the user who posed the question will see your response on their Moderated Q&A > My Questions tab.
Dismiss/Delete
If the question isn't relevant or appropriate, you can dismiss it and move it to the Dismissed tab. Dismissing keeps a record of the question in the Moderated Q&A tab, unlike the trash can icon, which removes it entirely (both from your view of the chat and the view of the user who originally posted it).
Further Reading: