Login to Admin-> Look for respective event -> Choose Pages from left navigation panel -> Choose Sponsors

On the top right-hand side, you will be able to see the Sponsor Settings Tab

Once you click on it, a window will pop out which will give you an option to turn ON/ OFF the Show scan badge confirmation message.
By default, it will be showing you this.
But once you choose to turn it ON it will then be showing you a textbox where you can compose/ edit a confirmation message that you would want to appear whenever a particular badge on the sponsor's page is clicked.
Do not forget to click on the SAVE button once you are done.
Note: After making changes on the Admin site, it could take up to an hour for changes to reflect in the Event site.
For instance, if you have chosen to turn it on and you would like to check if it works, all you must do is to log in to the event site and click on the Sponsors tab. You may choose any sponsor that has a scan badge feature.
Example:


Note: Not all sponsors have this type of feature.

Click on the Scan Badge button and a confirmation message will pop out on your screen. If the confirmation message is the exact same message that you have entered, then you have successfully registered it on the system.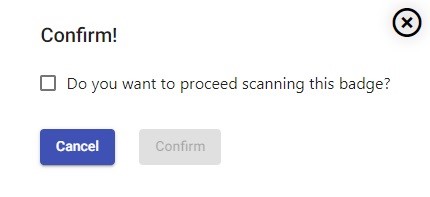 Note: Update Detail is a tab that saves all the information and changes whenever you create/ edit anything. Make sure to click on it every time you make any changes. You can find this tab beside the Sponsor Settings tab.