To manage your Happy Hour list, Log in to Events Builder > Look for your Event > Choose Content from left navigation panel > Select Happy Hour.
Once you are on the Happy Hour page, you will be able to see all the Happy Hour you have added. You can manage them or delete them by clicking the Ellipsis button on the respective happy hour. You will see 3 options here: Edit, Media, and Delete.
Edit
Click on Edit and you will be able to update the photo for Happy Hour, Title, Descriptions, the time it will start and end, etc.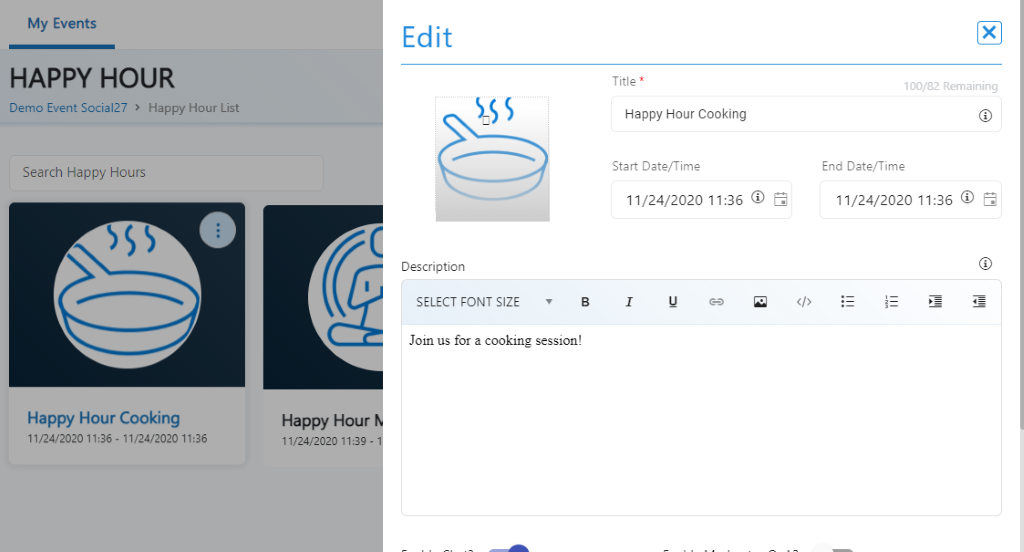 Just scroll down and click on the update button to save the changes once done or click on the X button on the upper right side of the section if you wish to cancel the changes.
Media
Clicking on media will enable you to add links of videos you wanted to share to all attendees that will visit your happy hour group chat, you can also just add an image like infographics of your events or anything you would like to share with them, these will be available at all times at the side of your happy hour list page.
Note: If the host provided a link for Happy Hour using Zoom, Microsoft Teams, or other platforms, then the Happy Hour will be hosted outside the platform.
Delete
Clicking on Delete will enable you to delete Happy Hour. Once you click delete, just confirm the action by clicking yes on the pop-up.
Still Need Help? Reach out to us at support@social27.com if you need additional assistance.
Read Also: