To integrate Salesforce with Social27, log in to the Events Builder and select Social27 Admin > Integrations in the left navigation menu. Select Salesforce from the Available Integration section and click purchase online.
Enter your card details and proceed with the payment.
Note:- Once the payment is processed please refresh the page to see salesforce under the Active Integrations tab.
When the Salesforce popup appears, click Enable, log in with your Salesforce account credentials, and click Allow.
Once you've allowed the integration, two keys will appear on the Salesforce settings page for verification and security purposes:
Click the copy buttons to save each of these keys into a text document to be used in the final step of the Salesforce-Social27 integration.
Close the Salesforce settings page to return to the main integration page and again click the Salesforce tile to open the Salesforce popup and navigate to Overview Tab. Turn on the Registration toggle.
You can now paste in the two keys you saved from the Salesforce settings screen. Then select which Campaign in Salesforce you would like to use to import data into Social27's system and determine which Salesforce fields should map to which Social27 registration fields.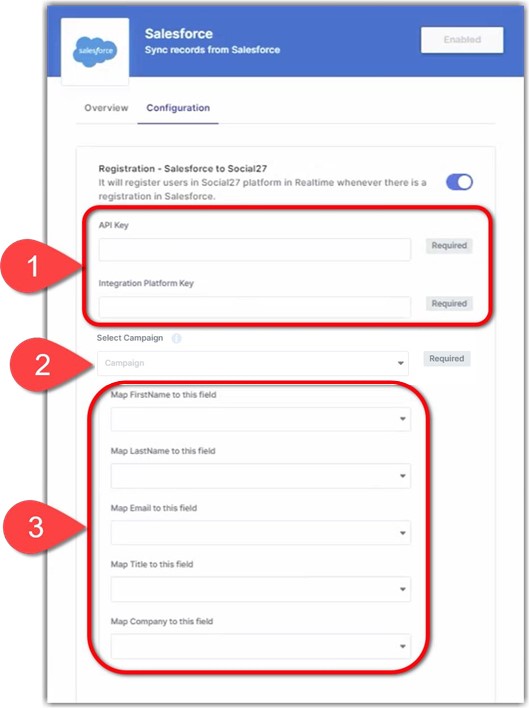 Once you've adjusted all settings, your Salesforce integration will be complete and all users who are added to your Salesforce account will also be registered automatically to your Social27 event.
Still, Need Help? Reach out to us at support@social27.com if you need additional assistance.

Further Reading