Interested in automating your event with 3rd party partners?

Let your CSM know and we'll set up a demo!
This article explains how you can save time by using Zapier to automate processes between Social27 and other platforms. Topics in this article include:
Managing Event Attendees with Zapier
Using Zapier, you can manage your event attendees by importing them from an external system (e.g., Cvent) into your Social27 event.
Note: Zapier will not retroactively import existing registrations from an external registration site into Social27.
Connecting Apps to Social27 via Zapier
Social27 can connect to thousands of apps using Zapier. Check out Zapier's website for the full list.
Setting Up Your Registration Page
Create your Social27 event using the Events Builder.
Create and publish your external registration page (e.g., Cvent).
Setting up Zapier
Setting a Trigger
In a new browser tab, open and log into Zapier. Click Create Zap.
Search for and select your third-party registration platform (e.g., Cvent) and allow Zapier to access your account, then set up a trigger event.
Some applications allow you to test your application to check that they are sending data to Zapier as expected. To do so, click Test trigger to make sure your third-party registration platform is connected and the Zapier trigger is set up correctly. If the test data matches records in your third-party application, click Continue.
Setting an Action
Now that you have set up a Trigger, you can determine what Action takes place when the Trigger event occurs.
First, set up your filters, which allow you to customize exactly when you want the Zap to run (i.e., which Cvent registrations should appear in your Social27 event). If you need to slow down the refresh rate, you can set a delay, then click Continue.
Connecting to Social27
You'll see the search bar again, but this time, search for Social27 and connect your account.
As you did with Cvent, allow Zapier to access your Social27 account.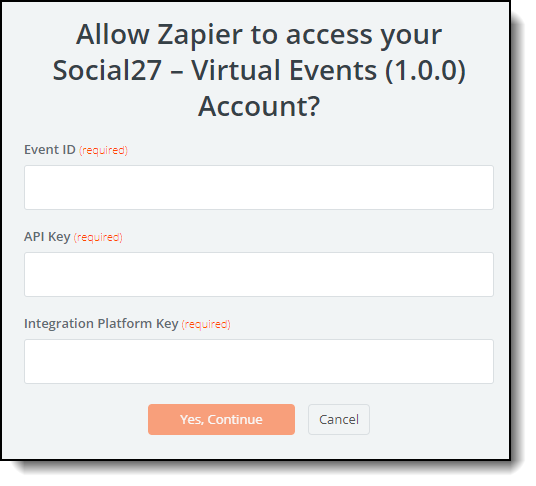 In the Events Builder, select General Settings in the left navigation menu and select the Integrations tab. Click the third-party registration service (Cvent, in this example), and turn on the toggle that will import users registering to that service into your Social27 event. You'll find your Event ID, API Key, and Platform Key once you turn on this toggle.
Go back to Zapier and select which action you want to occur (create a registration in Social27) and click Save and Continue.
Once you turn on the zap, when attendees register for your event on Cvent, they will automatically be registered for the Social27 event.