To ensure that all events hosted by Social27 are safe and inclusive spaces and adhere to the communication policies set by event organizers, users are able to flag chats sent by other users that they deem to be inappropriate, offensive, or abusive.
This article explains how moderators, speakers, and event owners can manage flagged content.
Topics include:
Enabling Chat Flagging
To moderate chat, you need to first enable chat flagging, which will allow users to flag content. To do this, log in to the Events Builder and navigate to General Settings > Pages. In the General section turn on the Enable Flag Chat toggle.
Flagging Content
Any user can flag a chat by clicking the three dots in the top right corner of the chat.
When a user flags a chat, the chat text will be removed and replaced with the following message:

Tip: Users can undo their flags by clicking the three dots in the top right corner.
Receiving Notifications for Flagged Content
If you are logged in to the event when a chat is flagged, a broadcast notification will appear in the bottom left corner of your screen. Clicking the notification will redirect you to the page where the chat was flagged and allow you to review and moderate the content.
Taking Action for Flagged Content
Once you are notified of flagged content, navigate to the event page where it appears and click the Flags tab in the Chat window on the right side of the screen. This tab contains all content that has been flagged for your review. If a chat is part of a message thread, you will be able to see the entire thread to understand the context of the flagged chat. The number in the pink circle tells you how many people have flagged each chat.
Several options are available to you when reviewing the flagged chat.
Delete
Click the trash can icon to permanently delete the post.
Remove All Flags
Click the ellipses icon to remove the flag and the flagged label from the chat (This post is pending review by a moderator.).
The chat will remain in the Flags tab even if its flag is removed, although no further action is needed.

Tip: If a user undoes their flag and no other users flag the post, it will be removed from the Flags tab.
Report and hide this Post
This is the same flag option that users click when flagging the post. When moderating content, you likely will not use this option.
Details
Click Details to view which users(s) flagged the chat and when they flagged it: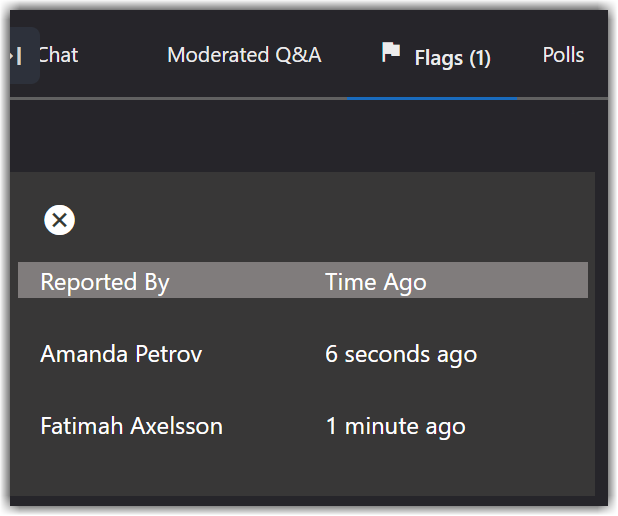 Further Reading: