As an event attendee, you have a profile that you can update to include your profile picture, bio, and Hello World! video. On your profile, you can view connections you make with other attendees, Soapbox videos you've uploaded, one-on-one chats sent to you from other attendees, and badges you have earned during the event.
This article outlines the steps you should follow to delete your profile from an event hosted by the Social27 Virtual Events Platform.
Log in to your event and select your profile picture from the top navigation bar. Select Delete My Account under my profile option and select Request For Pin.
Check the email address you used to register for the event. You will see an email from noreply@social27.com that contains a Delete Pin.
Return to your profile, click the Already have a pin? link, enter the Delete Pin you received via email and click Delete Account.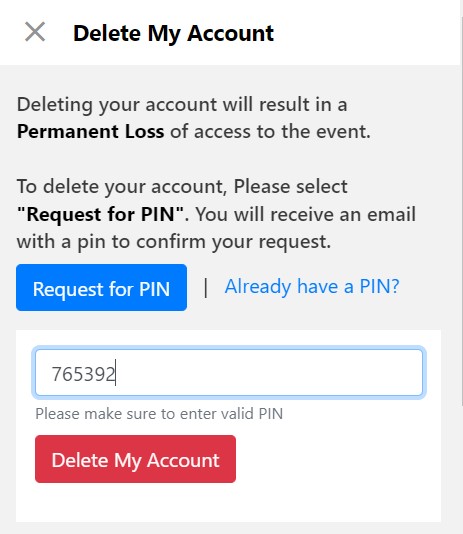 Note: Deleting your profile will result in permanent loss of your access to the event(s) AND you will not be able to register for the event(s) using the same email address in the future.
If you have any problems deleting your profile, please reach out to support@social27.com.
 Further Reading: