Sponsor Category
Do you have several sponsors, and you want your attendees to easily see or locate them?
Adding a sponsor category will help you achieve this. You can categorize the sponsors for your event by adding a Sponsor category.
To access Sponsors:
Login to Admin-> Look for Event -> Choose Pages from left navigation panel -> Choose Sponsors
How to Add a Sponsor Type
On the sponsor page, click on the "Add Sponsor Type" button which is located on the upper part of the page.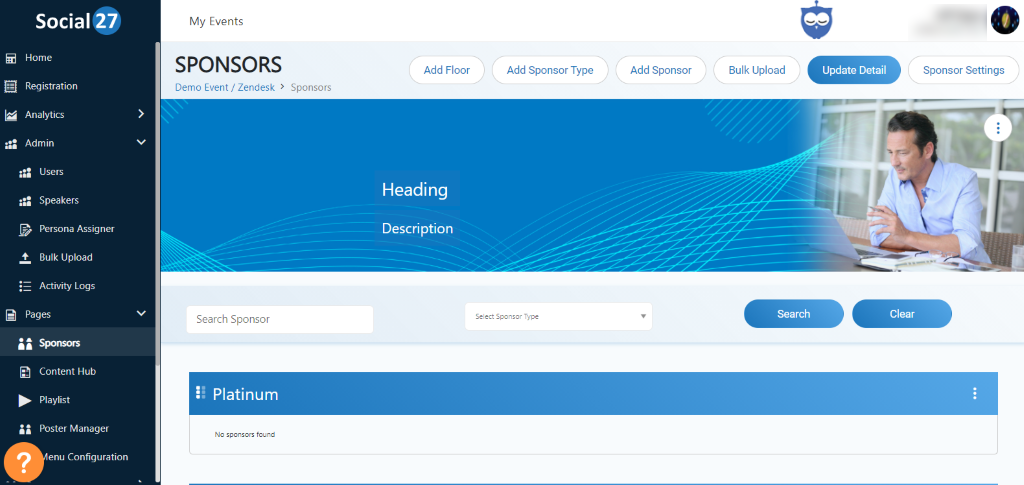 On the Create/Edit Sponsor Type window, choose the floor where you want the Sponsor Type to appear. You also need to put a title on the particular sponsor type that you are trying to create.
For changes to be saved, do not forget to click on the "Save" button.


After saving, you should now be able to see the Sponsor Type that you created on the page. The title that you typed in a while ago will also appear. You have the option to put the title name that you prefer for all Sponsor Types that you will create.
Note: After making changes on the Admin site, It could take up to an hour for changes to reflect in the Event site.